Features:  

-          Pigstuff Sows is a web application with Microsoft Silverlight technology (compatible Windows PC and Mac PC) and Microsoft SqlServer 2008R2 database for the management of sows (access through login: username and password).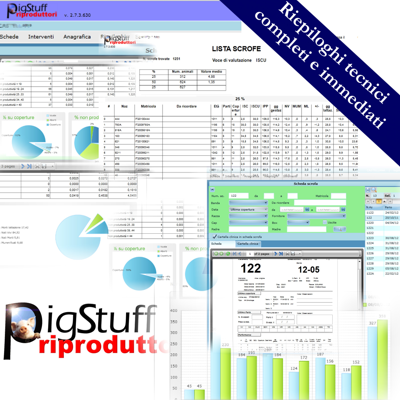 -The Server's content are daily managed and updated by the SaySoft's staff .
- Differentiated Account for different types of users. According to your account type, yu can have different editing/viewing properties. 
- Recapitulations Print-outs : Statistics are ready available about the Animals and Farm's Performance, The Non-productive days (GNP ) of the Sows and detailed report about the deliveries and the farm's yield;
Comparative printouts; all print-outs can be filtered and tailormade: (by Farm, breed, cycles ,Parents, Suppliers, Labels, etc. ....)

Immediate and customized warnings and allarms (including through e- mails or SMS);
Continuing improvement of the animals' performance by evaluating comparision reports. You can run a statistic for a given performance (Weaning/Fecondation int., Fertility, ... etc) and the program priints a list of sows devided into 3 parts: The best 25% performing sows, 50% around the average (+ or - the standard deviation, and finally, the worst 25% sowss).

The History and the records of a group of sows; 
- Medical records and history of the sow.
- Easy editing forentering large amout of data ( Cover, diagnosis , deliveries.... )


- Management of groups of sows Weekly, 21 days, a month, etc. ..): Traceability of weaned pigs and the sows.
- Export of data: all reports can be exported in various forms of compatible formats: PDF, Doc, csv, xcl etc...